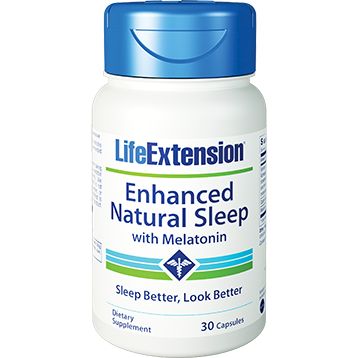 Enhanced Natural Sleep with Melatonin
Enhanced Natural Sleep is a melatonin dietary supplement that supports restful sleep. Rest easy at night with these capsules available at Breathing.com.
Enhanced Natural Sleep with Melatonin supports restful sleep, optimal stress relief, and a youthful appearance
Melatonin Dietary Supplement Facts
One capsule contains:
Sendara 200mg
---[proprietary blend of Ashwagandha (Withania somnifera) extract (root and leaf) standardized to withanolide glycoside conjugates and Amla (Phyllanthus Emblica) extract (fruit) standardized to low molecular weight hydrolyzable tannins]
Casein decapeptide (Bioactive Milk Peptides) 150mg
Melatonin (immediate release) 1.5mg
Other Ingredients: microcrystalline cellulose, vegetable cellulose (capsule), vegetable stearate, silica. Contains milk (casein decapeptide).
Enhanced Natural Sleep with Melatonin supports restful sleep, optimal stress relief, and a youthful appearance