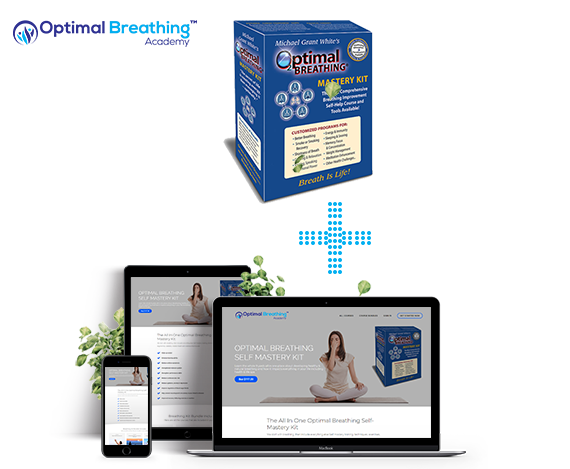 Optimal Breathing Self Mastery Kit with Digital Access + 6 postal tools
Optimal Breathing© is the most advanced and versatile natural breathing development program in the world. Buy the Optimal Breathing Self Mastery Kit and learn the whole 9 yards all in one place about developing healthy natural breathing and how that impacts everything in life including health and lifespan.
You can access the Breathing Kit Bundle which has easy-to-follow, step by step moment to moment, guided experiences, with
Self-checks to make sure you got it;

Quizzes to help you remember it;

Exams to give you a sense of accomplishment
The Breathing Kit Bundle can be accessed through the login information we provide on our website. The Breathing Kit Bundle includes:
   Better Breathing Advanced Course

This course in combination of basic breathing exercises and accessories will help you breathe better and improve your health.  

   Optimal Breathing Development
   Techniques and Exercises

Contains 40 techniques and exercises that help you enhance your wellness and your breathing, demonstrated by Michael Grant White.

  Special Breathing-based Themes curated
  for addressing your concerns

Fundamentals of Optimal Breathing: allows you to perceive breathing as more than just a physical activity of inhalation or exhalation.

Focus, Concentration & Memory: allows you to master the art of focus and concentration using proprietary breathing techniques and other supportive tools.

Optimal Meditation Enhancement: enables you to achieve easier and effortless deep breathing and allows you to enter deeper therapeutic zones as you meditate.

Deepest Calm: helps you learn to stay grounded and calm with the help of specially designed breathing techniques and exercises 

Optimal Sleep: Designed to offer you quick results related to sleeping issues such as Insomnia and Snoring

Smoking or Smoking Recovery: helps you quit smoking easily and/or repair and enhance a great deal of your damaged lung and breathing capacity. 

Shortness of Breath: helps you find a customized solution for all breath-related ailments using an effective set of proprietary breathing techniques and accessories.

Singing, Speaking, and Personal Power: provides quicker and more effective results for those looking to strengthen their vocal cords and enhance their stamina.

Optimal Energy: helps you to breathe right and energize yourself when you feel drained and exhausted as well as assists you in building your stamina.

Weight Management: This course, combined with accessories, will accelerate your weight loss journey and help you maintain your lost weight.

  Supplemental Content

Better Breathing Exercise #1: Teaches you how to have longer natural breathing pauses, deeper-easier breathing, and better relaxation.

Better Breathing Exercise #2: Exercises for deeper, focused relaxation, energy, vitality, stamina, and quicker recovery. It also contains a special breathing exercise aid.

Peace Within:It includes the sacred sounds of Tibetan "singing" bowls. These help in self-healing, meditation, and deep relaxation. It also assists in detaching from tensions and worries and accessing your deep inner self.

Breath of Life & Vitality: Discussion between Michael G. White and Rusell J. Martino, radio talk show host, on several critical breath-related factors you must know to lead a long and healthy life.

Breathing Self-Esteem Exercise: Contains breathing exercises to help you feel better about yourself and increase your confidence and positivity. This CD contains music from Tibetan singing bowls, which helps in self-understanding and helps you become more comfortable with personal expression.

Supplemental Documents: include multiple documents on breathing
Breathing Tools
The Optimal Breathing Self-Mastery Kit includes special accessories (sent via UPS or USPS) to help you breathe the right way.
| | |
| --- | --- |
| Optimal Breathing Pattern Stabilizer (The Blue Velcro Strap) | The strap helps to offset the tendency of breathing too high into the upper chest. It also rebalances the nervous system and gently guides the breathing to be more where it is supposed to be. |
| Diaphragm Strengthener | A vital breathing resistance/ training tool to help you enhance your primary breathing muscles and increase their excursion (rise) to allow for deeper yet stronger and more balanced breathing. |
| Rib Cage Expansion Tool | A tool to safely expand the rib cage |
| Cloth Tape | To measure rib cage expansion |
| Theraband | To augment better breathing exercise #2 |
| Guidebook and card system | Features detailed explanations with pictures to guide you throughout |