ALICE KAHN LADAS - Turbo Nonagenarian, age 101 and still working!

One of my favorite descriptions of someone who is or has made a huge difference in other's lives is that they are a "Breather". Alice Ladas well deserves the honor. A practicing therapist, best selling author, all around incredible human being and Champion Breather.
I went to help her with her breathing. She picked me up at the airport and at 4'10" could barely see over the steering wheel but is an excellent driver.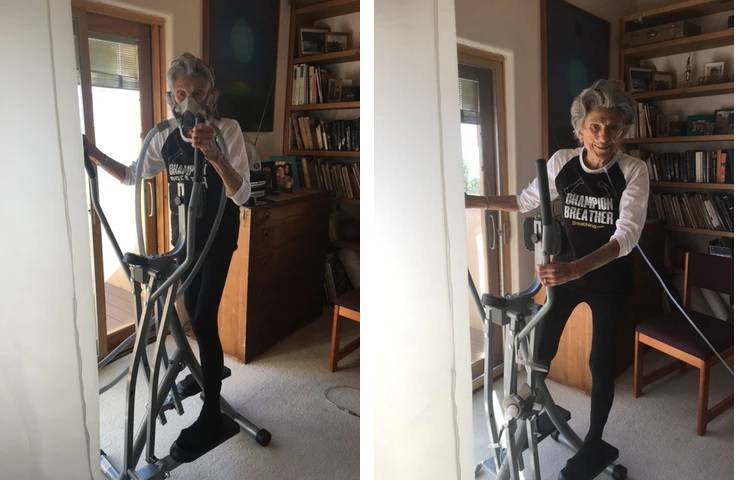 Alice Kahn Ladas, Ed.D. is exercising with our home Turbo Mega Flow Mask Oxygen System. Diagnosed with COPD because of a medical error that left a blood clot in her right lung, she is hoping to slow down the progress of that disease. She uses it 10 minute per day.

Still working part time at 101 as a Somatic Psychologist, licensed in NM, she is studying TTouch, a new skill to include in her practice. From the time she graduated PhiBetaKappa, with Honors from Smith College, she has wanted women to be able to use their own bodies as they wish. She was the acquaintance of two famous women who felt similarly. One was Eleanor Roosevelt. Alice first met her at a seminar for student leaders held at the Roosevelt home in Campobello in 1941.The other was anthropologist Margaret Mead. who agreed to chair her doctoral committee on "Breastfeeding the Less Available Option" 1970 when other professors said the topic was unimportant and refused to join her committee.. Summaries of Alice's thesis, done with the help of 1100 members of the newly formed La Leche League, were published in 4 peer reviewed medical and sociology journals and helped bring breastfeeding back to "civilized" culture. She is first author of the NY Times best seller, The G Spot and Other Discoveries About Human Sexuality" (1982), taught the first class in the Lamaze method of educated childbirth in the USA in 1959 and helped to found The Institute of Bioenergetic Analysis in 1956.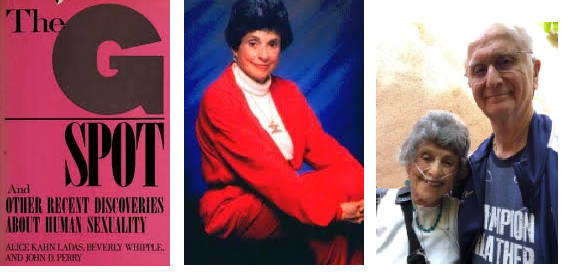 Alice wanted a family as well as a professional career. Now a widow, she keeps in close touch with her 2 daughters and 3 grandchildren. Until COVID closed it down, she participated in the Sr. Olympics in racewalking, tennis and talent. In 1998, she won first place in NM as a solo instrumentalist over 70, playing the piano.
I am sure she would love to hear how you are inspired by her. Email me at mike@michaelgrantwhite.com and I will forward it to her.