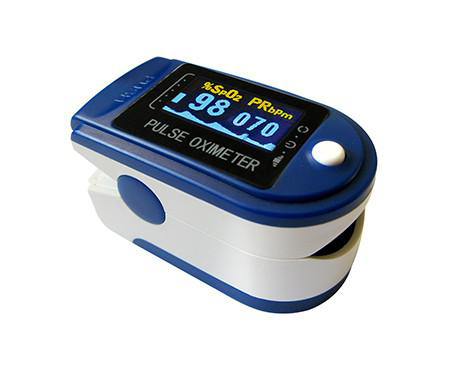 Pulse Oximeter - Fingertip
This fingertip pulse oximeter helps monitor SpO2. Order this oximeter device at Breathing.com to gauge blood oxygen while using your concentrator.
Fingertip Pulse Oximeter is designed for the non-invasive measurement of oxygen saturation of arterial hemoglobin (SpO2) through the finger. This device features a LED panel with a red display for showing SpO2/pulse rate data as well as a single-button operation.
Parameters
SpO2 is the amount of oxyhemoglobin expressed as a percentage of functioning hemoglobin. Functioning hemoglobin is capable of carrying oxygen and includes oxygenated hemoglobin (HbO2) and deoxygenated hemoglobin (Hb).

Pulse Rate (measured in beats per minute or bpm) is the frequency of heartbeats.

Features
Easy-to-read results with large LED display
Displays SpO2, pulse rate data, and bar graph
Accurate and reliable readings with advanced DSP technology
Features single-button operation
Lightweight and portable
Versatile and ready to use
Monitors oxygen levels in real-time
Includes 2 AAA batteries
Specifications
Dimensions (L x W x D): 2.25" x 1.2" x 1.2"
Weight: 2 oz (approx)
Power: Two AAA 1.5v alkaline batteries
Power consumption: Smaller than 30mA (normal)
Operating Temperature: 40-100℉
Storage Temperature: -4℉ to 131℉
Relative humidity: 15-85% non-condensing
Normal Reading
For healthy individuals, oxygen saturation values are between 95% and 100%