ATMOSPHERE

Mini


AIR TREATMENT SYSTEM



Manage your home's air quality with the mobile app-connected
Atmosphere MINI™ air treatment system.
Atmosphere MINI™ Air Treatment System, a high-performance indoor air filtration system, offers all the benefits of Atmosphere air purifiers in a compact size to benefit your indispensable need for purer air.
Enjoy Fresh Air Indoors with Atmosphere MINI™
Atmosphere MINI™ Air Treatment System is capable of:
Removing 300+ airborne contaminants from air passing through the unit (bacteria, mold, viruses, pollen, fungi, dust mite antigens and asbestos).

Delivering single pass efficiency performance of 99.99% against particles of size 0.0024 or more.(That means 30,000 times smaller than a single strand of human hair)

Effectively purifying the air in rooms up to 200 square feet (or 18.6 square meters) in size
Filters 99.99% particulate
matters

which is better
than HEPA

Filters contaminants
as small as
0.0024 microns

Filters over 300
contaminants
from air
A unique internal air circulation system that integrates particle sensor with a 3-stage filtration system and an exclusive motor housing for clean, refined air.
Fan blades offer optimized airflow to remove the airborne pollutants and odors in rooms up to 200 square feet.
Rapid Contaminant Level Monitoring
Particle sensor icon on unit's display panel lightens as Red, Yellow or Green to notify you on the pollutant level.
Faster, smarter and efficient system with high energy efficiency and low power consumption.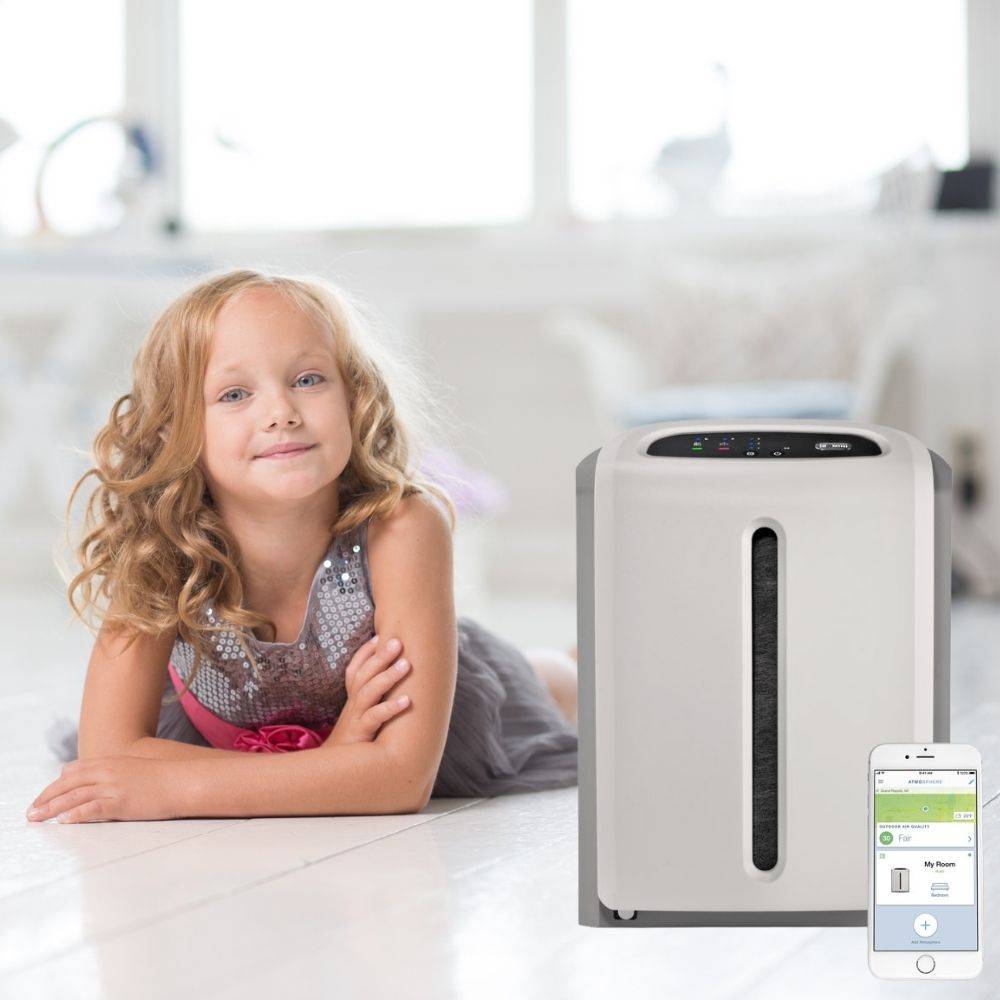 Perfect for Smaller Spaces
Atmosphere MINI™ Air Treatment System delivers a Clean Air Delivery Rate (CADR) of 130 cfm or more at Speed 3 which implies the efficiency of the system in purifying the air in rooms of 200 square feet or smaller. Ideal for:
An exclusive 3-stage filtration system that is engineered to place a novel benchmark for indoor air quality by capturing 300+ airborne contaminants including bacteria, mold and viruses.
Pre-filter: Traps large particles such as airborne dust, fibers and hair.

HEPA Filter: Eliminates microscopic contaminants and smoke

Carbon Filter: Detoxifies the air and reduces unpleasant odors from cooking, tobacco smoke and pet dander.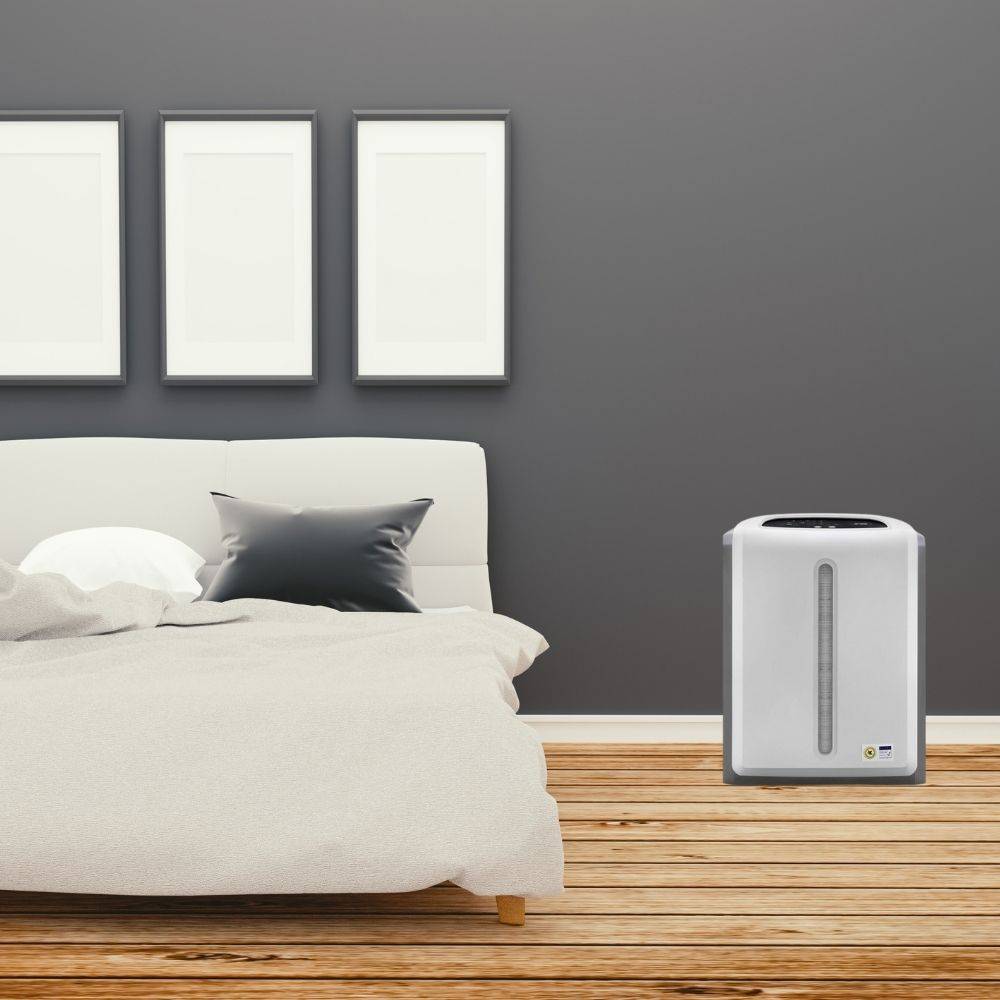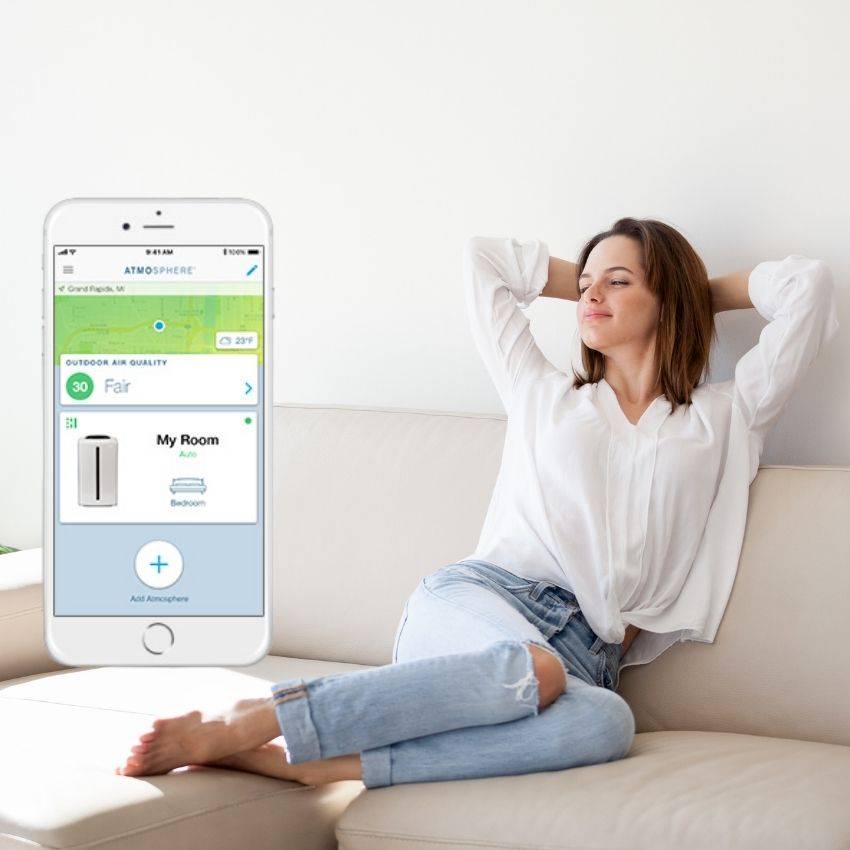 Digital Companion of Atmosphere MINI™ Air Treatment System tailored to improve your clean-air experience. With its Wi-Fi/Bluetooth Connectivity, this app permits you to:
Monitor indoor and outdoor air quality

Keep a track on filter usage and lifespan

Transform your smartphone as remote control to turn unit ON/OFF, change fan speed/mode, measure indoor air quality

Monitor and regulate multiple devices within your home
The simple display panel facilitates you with various functions to manage the unit. This display panel makes you able to:
Observe the time for filter replacement.

Understand the status of indoor air quality via the Particle Sensor Display.

Operate the unit in Auto Mode that automatically alters the speed of air fan on the basis of present air-quality levels.

Shift to Manual Mode for manually adjusting the fan speeds for temporary purposes (for instance, odors from cooking, pets etc).

Change to Night Mode that decreases the speed of operation and brightness level for a peaceful and sound sleep.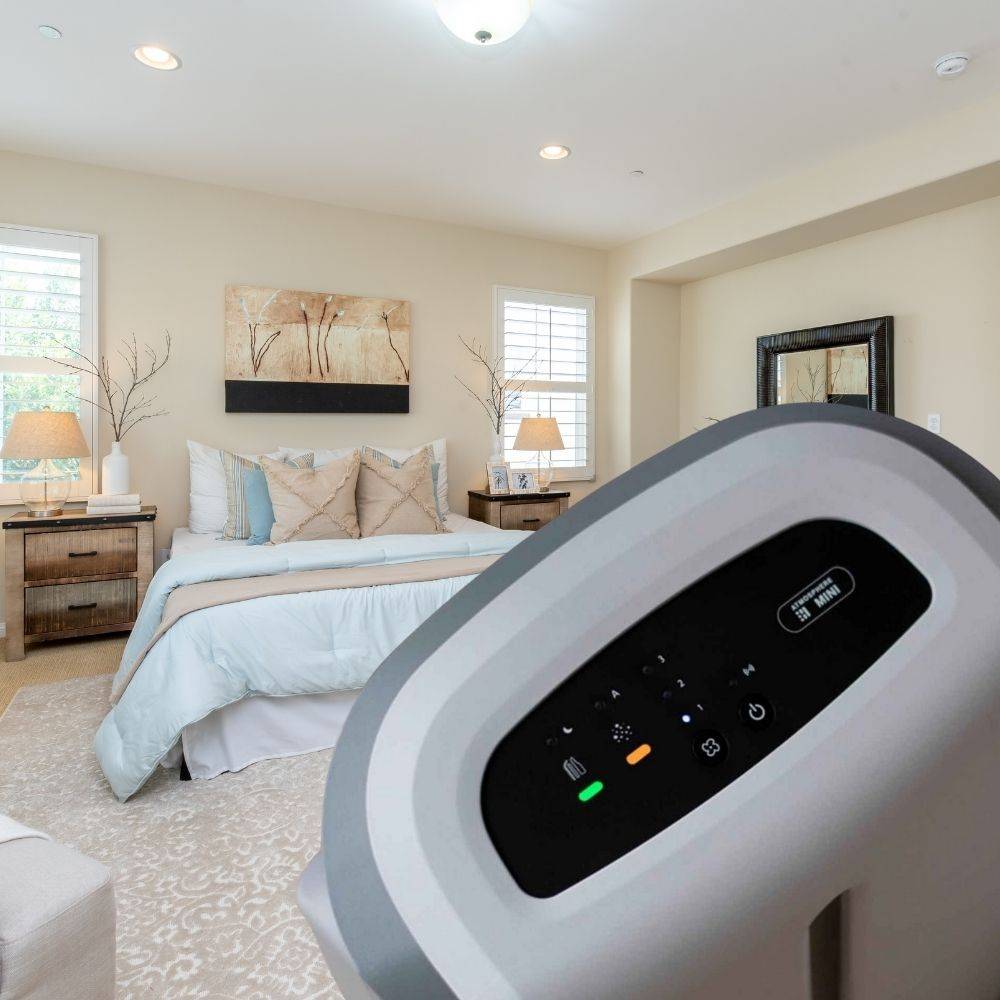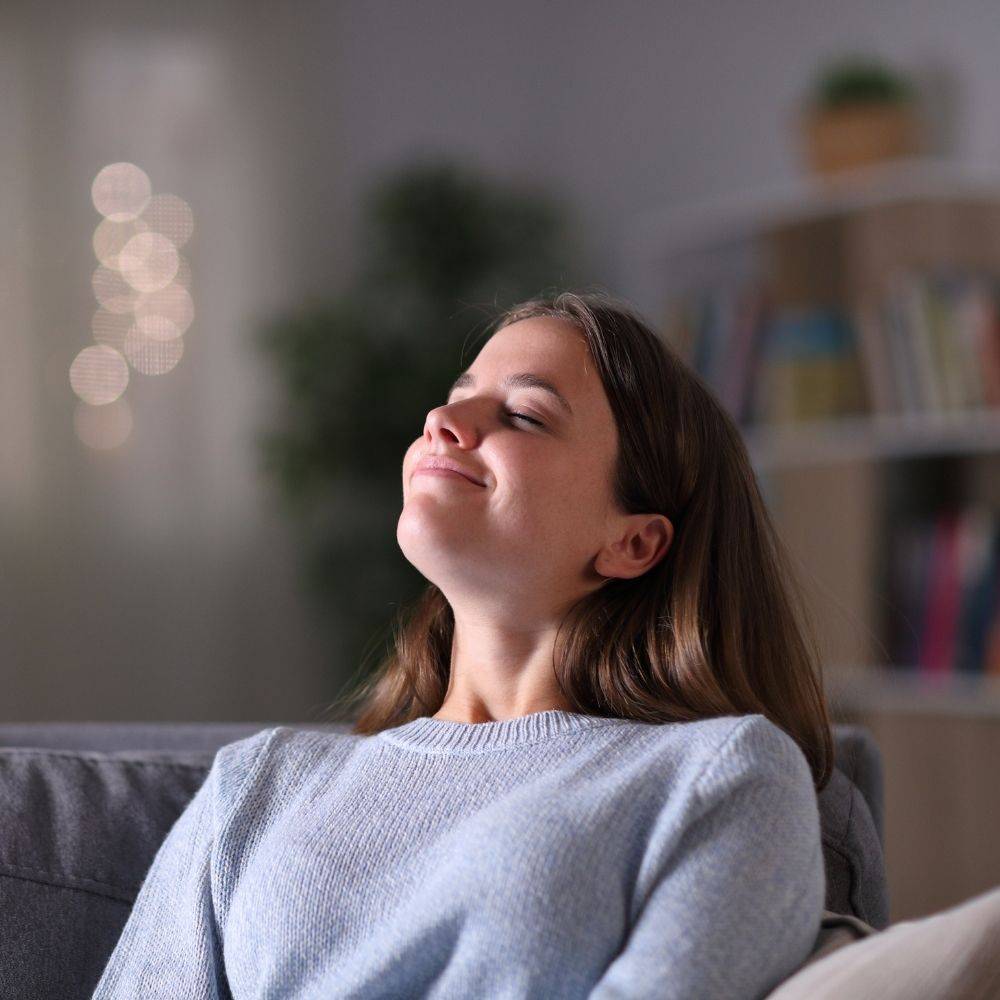 Safety and Quality Certification
British Allergy Foundation-Seal of Approval

U.S. Association of Home Appliance Manufacturers (AHAM)- CADR Certification
5 Years of Limited Warranty Protection that comprises of:
3 Years of Limited Warranty Protection (when filters are replaced on time)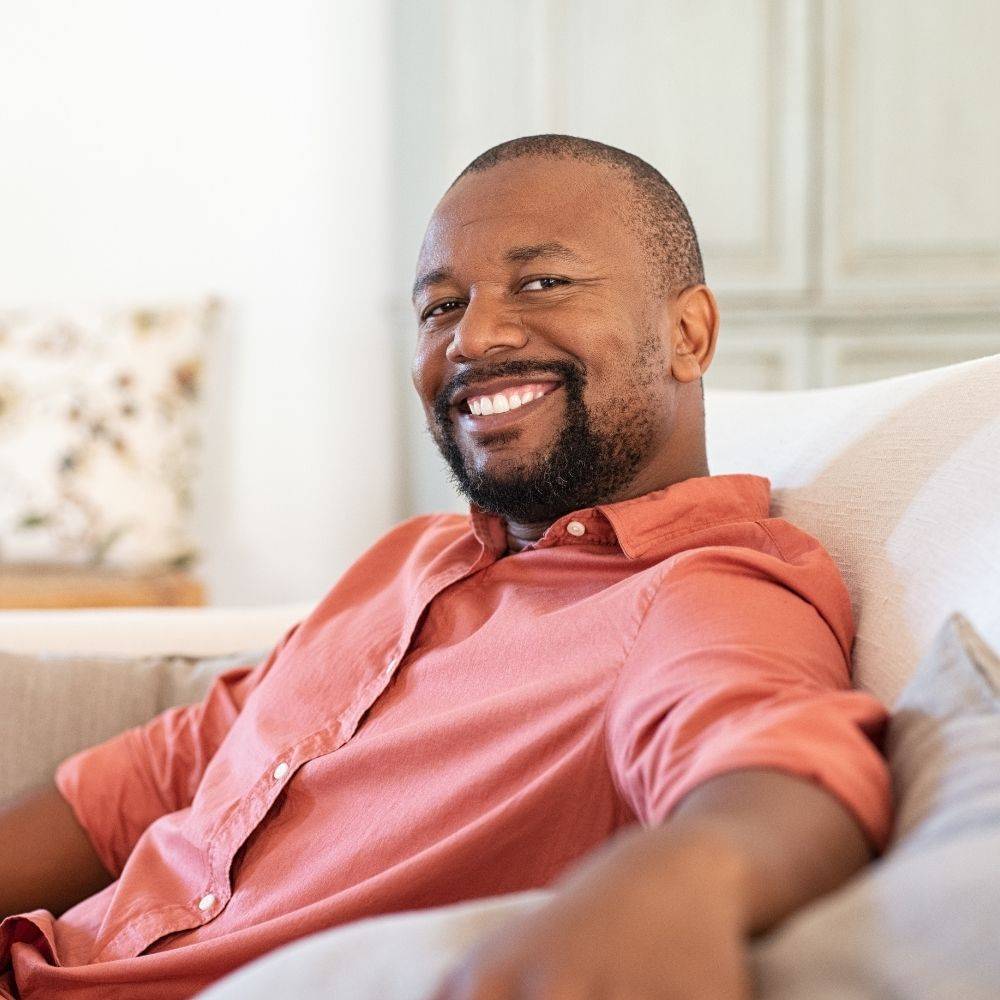 Heavy Duty Performance in a Mini Package
Find joy in a breath of fresh air with the Atmosphere MINI™ Air Treatment System.
Sit Back and Relax; Inhale Composure, Exhale Contentment