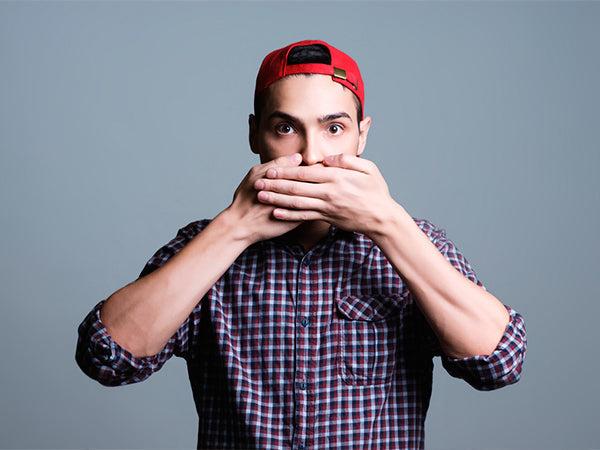 Stuttering and Breathing
The Toxic Voices in our life can take many forms, but they all have one purpose: to keep us in our personal hell (such as worry, depression, poor health, addiction, chronic frustration and dissatisfaction). At the very least they keep us trapped in a stagnant "Comfort Zone," leading what Thoreau called a life of "quiet desperation."

Our Natural Voices are healthy, supportive and realistic; they help us navigate our way through life successfully. Our sacred voices guide us on a deeper level to live our values and realize our purpose in life.
For many of us, especially those who grew up in dysfunctional families, the majority of the inner voices we listen to may be toxic. Since the Toxic Voice is the biggest enemy of our happiness and our growth, freeing ourselves from it is crucial if we truly want to live the life we were born to live.
Do your Toxic Voices keep you trapped in a Comfort Zone where you gain and lose the same pounds over and over? Or do they keep you going back and forth about what to do about a relationship or a job that isn't that great? Or do they impersonate higher spiritual voices?
Famous People Who Stutter
Nicholas Brendon—TV star "Xander" in Buffy the Vampire Slayer
Alan Rabinowitz—zoologist, conservationist, and author
Annie Glenn—wife of former astronaut, Senator Glenn
John Stossel—20/20 news reporter
Ron Harper—basketball star
Mel Tillis—country singer
Winston Churchill—statesman and orator
Bruce Willis—actor
Julia Roberts—actress
Robert Merrill—opera star
Bill Walton—basketball star, sports commentator
John Updike—writer
Congressman Frank Wolf of Virginia
Jimmy Stewart—actor
Somerset Maugham—writer
Lewis Carroll—writer
Margaret Drabble—British novelist
Robert A. Heinlein—science fiction writer
Lewis Carroll—Governor of Alaska
Budd Schulberg—"On the Waterfront," Oscar winner
Peggy Lipton—actress from TV show "Mod Squad" and "Twin Peaks"
Sam Neil—actor
Bo Jackson—athlete
Eric Roberts—actor
Raymond Massey—actor deceased
Carly Simon—singer
Lester Hayes—defensive back for LA Raiders
Tommy John—pitcher for Oakland A's former Yankee
Jack Paar—late show host
Neville Shute—Novelist
Andrew Lloyd Webber—famous for Cats, Phantom of the Opera
Prince Albert of Monaco
Greg Louganis—diving champion
Dave Taylor—Former hockey star with the LA Kings
Jack Ebert—producer "Dances with Wolves"
Anthony Quinn—actor
Chris Zorich—the Chicago Bears defensive lineman
P.F. Bentley—award-winning photographer for TIME Magazine
U.S. Senator Joseph Biden of Delaware
Sidney Gottlieb—controversial CIA psychologist and mastermind

Corporate

Walter Wriston—Citibank
John Sculley—Apple
Mike Harpe— Conagra
Jack Welch—General Electric
Vince Naimoli—Harvard Industries
Our self help speaking program
---